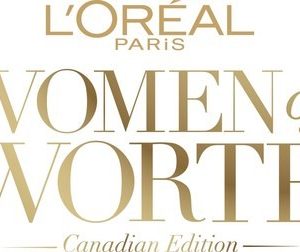 L'Oréal Paris Canada today announced the remarkable recipients of its third annual Women of Worth program. The philanthropic initiative recognizes a diverse group of women who find beauty in giving back through their volunteerism and honours the inspired contributions they make in their communities. Ten extraordinary female leaders have been selected for the significant impact they have made across a breadth of causes and important initiatives.
The honourees join an esteemed alumnus of Canadian women who tirelessly devote themselves to build a future that is compassionate, inclusive, constructive and essential for making change. Each Honouree will be receiving a $10,000 grant for her charity, as well as an all-expense paid trip for two to the Awards Gala held in Toronto on March 8, International Women's Day.
"We couldn't be prouder to applaud these changemakers. Their steadfast resolve and achievements are truly remarkable," said Milan Mladjenovic, General Manager, L'Oréal Paris Canada. "Every year we're profoundly moved by the stories that accompany these crusaders – and this year is no exception. I feel tremendous privilege acknowledging these notable women who are making our world a better and brighter place."
From now until March 4, Canadians can cast their vote online for one National Honouree who will be awarded an additional $10,000 grant for her non-profit charity. The public can visit womenofworth.ca to read more details about each Honouree's cause and their personal journeys.  One submission per email address per day will be accepted. The public vote is a core factor in the judging panel's selection of the 2019 National Honouree.
The 2019 Women of Worth Honourees are:
(in alphabetical order)
Ishita Aggarwal, Mom's The Word (MTW) in Vaughan, ON supports homeless and low-income expectant mothers fight maternal poverty, health illiteracy and infant morbidity.
Toyo Ajibolade, Lady Ballers Camp in Toronto, ON actively engages racial minority girls and young women from low-income households. She removes gender, social and economic barriers so these women can participate in recreational programs, educational activities, leadership and employment accessibility.
Lynda Debono, Sarah & Claire's Food Drive in Toronto, ON is driven to mobilize youth in her community, and rally around the impact of food insecurity, while feeding hundreds of thousands of people in need.
Isabelle Ducharme, Keroul – Montreal, QC is an advocate for increasing the accessibility of cultural and tourist services for those living with limited physical abilities in Quebec.
Katie Mahoney, We Are Young in Halifax, NS is granting unfulfilled wishes to elders in the hope to bridge the gap between generations, raise social awareness of the inequalities of seniors and honour the role they play in society.
Danielle Main, Leash of Hope Assistance Dogs in Vancouver, BC founded a non-profit program that rescues dogs and trains them to be service dogs for people with a variety of disabilities, allowing them to regain their independence. She is blind and has the first trained guide dog from the program.
Dr. Eliza Olson, Burns Bog Conservation Society in Delta, BC is dedicated to the protection and sustainability of the unique ecosystem of Burns Bogs for future generations and champions environmental stewardship through education in her community.
Adeola Deborah Olubamiji, STEMHub Foundation in Mississauga, ON endeavours to expand the ambitions and accessibility for females, visible minorities and underserved youth to pursue education and careers in the fields of science, math, technology and engineering studies (STEM).
Lynne Rosychuk, The Jessica Martel Memorial Foundation in Morinville, AB supports victims of domestic violence, including families and children of all ages and genders. They help those in need find safety and resources to begin their journey of healing. As well, they are building a safe haven, Jessie's House.
Nicole White, Moon Time Sisters in Saskatoon, SK is an activist for women's rights and social equality and helps supply menstrual products to those with little or no access in Northern Indigenous communities and beyond.
For more information on the Women of Worth program, to learn about past and present Canadian Honourees, and to cast your vote for the 2019 National Honouree, visit www.womenofworth.ca.