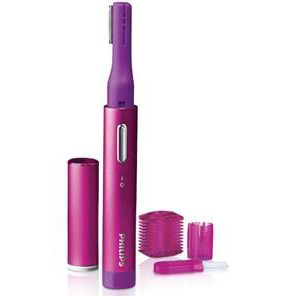 From the perfect sundress to the pair of sandals that can withstand beach trips, bridal showers and everything in between, people everywhere are working on their summer look. But style doesn't just stop at wardrobes. You're never fully dressed without great brows, and the Philips Precision Trimmer is here to keep you ready for your close-up all summer long.
The Philips Precision Trimmer is a trimmer rather than a blade. This means it can be used for gentle, pain free removal for all types of unwanted facial hair. On top of the regular trimming head the Precision Trimmer also boasts a precision attachment for perfectly shaped eyebrows. The 2-length trimming comb lets you precisely shape eyebrows to a uniform 2mm or 4mm for custom eyebrow definition. Its lightweight, compact and battery-powered design makes it ideal for taking it with you on the go! That means less time worrying about your next eyebrow appointment, and more time hanging with your friends.
Available online at Amazon.ca, and in-store at Walmart, Shoppers Drug Mart and The Bay.