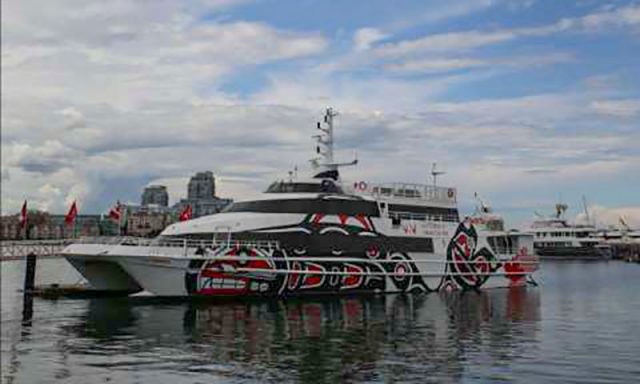 The premium cruise service, V2V Vacations is set to swap the Georgia Strait for English Bay for three special night sailings this Summer as it invites spectators onboard to experience the Honda Celebration of Light Festival from the best seat at sea. Fresh from its daily return service to Victoria, the luxury V2V Empress catamaran will welcome up to 150 guests per night for an exclusive two-hour cruise that offers unobstructed views of the world's largest offshore fireworks competition taking place on Saturday July 27, Wednesday, July 31 and Saturday August 3 in the skies above English Bay. Guests have a choice between The Royal VIP Observation Deck Package and Premium General Admission, both offering bar service and access to outdoors viewing areas.
In its 29th year, The Honda Celebration of Light presents a thrilling line-up of pyrotechnic performers featuring competing teams from India, Canada, and Croatia. The annual festival attracts more than 1.3 million regional and international visitors every summer to the shores of English Bay.  Three countries compete each year to wow Vancouver crowds, choreographing their spectacular displays to music as they're launched off a floating barge in the bay. Chrysanthemums, peonies and horsetails explode above the city, with a mighty crack that bounces off the mountains.
"You haven't really seen fireworks until you've experienced Vancouver's Celebration of Light, the city's signature summer event," says Paul Hawes, Marketing Director at V2V Vacations. "Join us to see the skies come alive each night from the best seat at sea, onboard the comfort of the V2V Empress.  Save your spot today for these unforgettable two-hour cruise experiences."
Details of the two premium options now available to book at https://www.v2vvacations.com/celebration-of-light-fireworks-cruise are:
ROYAL VIP OBSERVATION DECK – 50-person capacity
Enjoy unobstructed views of the fireworks from 360-degree VIP observation deck.
Upper Observation Deck Access
• Complimentary platters and snacks
• Sparkling wine fireworks toast
• Access to private bar
• 50-person capacity
Cost: $150 pp + tax, 19+ years only
PREMIUM GENERAL ADMISSION – 100-person capacity
The perfect location to watch the fireworks, onboard the V2V Empress from the comfort of your seat, or from one of the outdoor viewing areas.
General Admission seating is on a first come, first served basis
• Cash & card bar service available
Cost: $125 pp + tax
V2V is the only cruise boat that connects the heart of Vancouver and Victoria's historic Inner Harbour. The premium service onboard V2V offers two stylish seating classes, an impressive selection of local BC cuisine, wine and craft beer, and sundeck access for a spectacular 360-degree view perfect for wildlife watching. Its travel time of less than three hours and thirty minutes aboard the V2V Empress catamaran, offers a more time-efficient and comfortable alternative to the car ferry that operates from outside the cities of Vancouver and Victoria. To launch its 2019 high-season, V2V announced a new selection of Victoria day tours and experience options, to accompany its later daily departure time from Victoria to Vancouver until 31 October.
For more information, visit V2V Vacations.