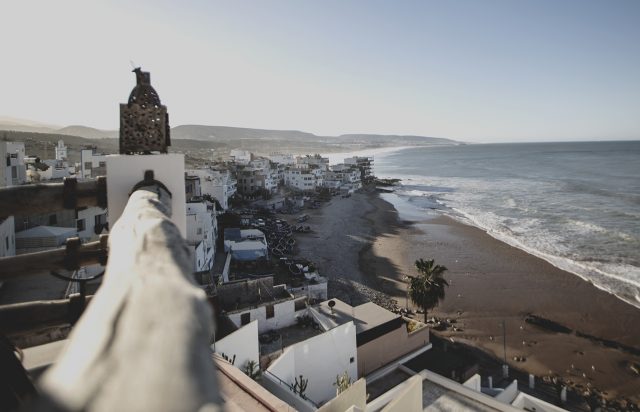 London-based travel company Sunny Side Up is the first outfitter focused on wellness retreats in Morocco and offers spiritual, physical and mental journeys that go beyond the ordinary and bring out the extraordinary. By bringing together world-class yoga teachers with transformative cultural experiences, Sunny Side Up caters to a growing audience of wellness travelers that seek more than just yoga in their retreats and look for discovery and exploration.
Sunny Side Up recently announced special discounts and offers for their 2018 and 2019 wellness retreats and tailor-made trips for new customers. For all retreats and trips booked by September 30th, 2018, Sunny Side Up is offering new customers 20% off all yoga retreats (use promo code WAPO18). In addition, new customers can receive £500 off and a free hamman massage for private trips of five days or more (use promo code WAPO18). A £300 discount applies for all back-to-back retreats from the same yoga instructor.
Launched in February of 2018, Sunny Side Up crafts their wellness retreats based on a curated immersion into Moroccan culture. Whether it's a boutique jazz festival in Tangiers or an artist-led graffiti workshop in Marrakech, the trips unveil the vibrant life and cultural fabric of Morocco through a different lens, while also allowing travelers to deepen and strengthen their yoga practice and disciplines. The team behind Sunny Side Up has been deeply involved with travel in Morocco since 2007 and has since developed a genuine friendship and understanding of the local community, fostering relationships with the on the ground creative forces that offer unique access to many hidden and lesser-known experiences.  Based in London, co-founders Nisma Benani and Charaf El Mansouri created Sunny Side Up to offer an authentic and purely wholesome way to experience Morocco. Nisma is a wellness warrior and certified yoga teacher and Charaf is passionate about culture which lends to a harmonious synergy of wellness and culture in all their trips.
Supported by some of the most revered wellness teachers in London, from Michael James Wong to Mona Lisa Godfrey and others, Sunny Side Up has just announced their lineup of wellness retreats starting in September of 2018 through May of 2019. Below is the just released schedule for 2018/2019:
Jazz x Yoga w/ Christian Coelho (September 19th – 23rd, 2018, Tangiers)
Joining from Rio de Janeiro, Christian Coelho will be leading this music-themed yoga adventure to the mystical town of Tangiers, its intimate jazz festival and its historic medina. Prepare for an unforgettable experience where the Atlantic Ocean meets the Mediterranean Sea.
For specific itinerary details, visit https://sunnysideup.travel/ofjazzandjoy/
Sufi Gnawa x Yoga with Christian Coelho (September 25th – 29th, 2018, Essaouira)
Brazil-based Christian Coelho will be leading this music-themed yoga adventure to the stunning Riad Baoussala on the outskirts of Essaouira, an ancient port town and home of the spiritual sufi Gnawa music.
For specific itinerary details, visit https://sunnysideup.travel/essaouira/
Art x Yoga with Mona Lisa Godfrey (November 17th – 21st, 2018, Marrakech)
Deepen your practice with Mona Lisa Godfrey in the magical city of Marrakech, one of Africa's most creative cultural hubs. Meet some of the most creative local minds, practice yoga in beautiful settings, and unwind in the beautiful setting of our boutique hotel, The Source.
For specific itinerary details, visit https://sunnysideup.travel/monamarrakech/
Hiking x Yoga with Mona Lisa Godfrey (November 21st – 25th, 2018, Atlas Mountains)
From the breathtaking heights and sights of the Kasbah Bab Ourika, join Sunny Side Up for this very special yoga adventure led by Mona Lisa Godfrey to the heart of Morocco's ancient Berber culture for an inspiring 4 nights of yoga, hiking, and meditation.
For specific itinerary details, visit https://sunnysideup.travel/monaatlas/
Meditation & Yoga with Michael James Wong (May 26th – June 2nd, 2019, Marrakech & Atlas Mountains)
Join Michael James Wong in the magic of Morocco for a cultural adventure and an escape into the unknown. Start the journey with an immersion into the vibrant sights and sounds in the ancient city of Marrakech. With daily yoga classes & meditation, dive deep into the experience and have a great time doing it.
For specific itinerary details, visit https://sunnysideup.travel/michaeljameswong/
Interested travelers should visit www.sunnysideup.travel for more information.
In an effort to give back to the local community, Sunny Side Up has partnered with Education for All (EFA) to help combat illiteracy with Moroccan women. In Morocco, 84% of women living in rural areas are illiterate. Very few girls from rural communities in Morocco get the opportunity of continuing their education after primary school. Every trip Sunny Side Up hosts funds one year of housing and education support for a girl from the Atlas Mountains. Through their partnership with Education for All (EFA), Sunny Side Up is able to provide a safe space, food and room and board close to schools, as well as tutor support to ensure all girls are able to complete their education. EFA builds and runs high-quality boarding houses for girls from 12–18. Everything is provided for free. They offer 3 nutritious meals a day, hot showers, beds, access to computers, study support via an international volunteer program and dedicated, local housemothers. The overall environment makes it easy for the girls to settle in and thrive in their studies. They see an average of 90% pass rate across all years and now have 50 EFA girls enrolled at the university.
In addition to offering set group wellness retreats, Sunny Side Up also can organize private trips and retreats for travelers. If a family getaway on the Atlantic Coast is of interest or a bachelorette party in Marrakech or a road trip to the Sahara Desert, Sunny Side Up can curate a custom-tailored trip showcasing the incredible experiences Morocco has to offer with their network including eco-lodges to the unsung heroes of Moroccan Cuisine and more. Sunny Side Up also handcrafts inspiring, hassle-free yoga retreats in Morocco. From coordinating transport and logistics, or booking activities, Sunny Side Up can handle all trip details and organize the perfect yoga retreats. From beautiful boutique hotels, off-the-beaten path experiences, authentic human interactions, and transformative experiences, Sunny Side Up can create the perfect yoga wellness retreat for yoga enthusiasts worldwide.