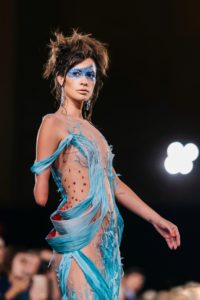 Hawaii amputee model Shaholly Ayers, a brand ambassador for Global Disability Inclusion, will walk the runway at Milan Fashion Week. She will join models of all abilities from around the world for an inclusive catwalk sponsored by Julia Barton in support of the Vertical Foundation, which finances research for spinal cord injury.
Produced by Iulia Barton, an inclusive fashion agency, the fashion show will feature a number of Italian designers, including Angelo Cruciani, Giuseppe Fata, Luigi Borbone, Massimo Crivelli, Antonio Urzi and Diego Salerno.
"It's truly gratifying to see all of these organizations coming together with a shared mission to encourage and celebrate diversity in the fashion industry," said Meg O'Connell, President of Global Disability Inclusion, a consulting company specializing in providing disability inclusion strategies and solutions to global companies.
Born in Florida and now based in Honolulu, Ayers wants to improve diversity overall in the fashion industry "to make people think about what they find attractive." She wants to open minds and encourage greater acceptance and understanding of all individuals.
A congenital amputee, Ayers was the first model ever to walk a runway without a prosthetic at New York Fashion Week. Ayers moved her way up in the fashion and modeling industry through hard work and determination. When she first started out over a decade ago, agencies did not want to hire her because of her disability. Ayers persevered, networking and building up her portfolio.
She has been featured in Nordstrom's national catalog three times and has also appeared in the pages of GQ Italia, GQ Japan, US Weekly, The Sun News Paper, The New York Times, and the Guardian, among other outlets. Last year, she also made appearances on Megyn Kelly Today and Hallmark Channel's Home & Family as well as in stories on Today.com and Shape.com.
To learn more about the model who, despite the odds, became a role model by defying beauty standards to become one of America's most dynamic emerging top models, contact info@globaldisabilityinclusion.com. To see more images, visit her Facebook page at Facebook.com/Shahollydawn or find her on Instagram @shahol1.