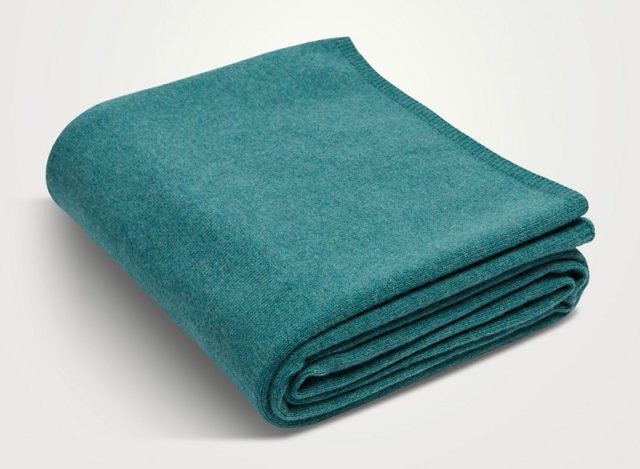 Debuting as part of the 2021 Holt Renfrew x Campaign for Wool Canada's Capsule Collection, this all-new merino throw from Montreal-based knitwear darling ça va de soi has arrived just in time for the Fall/Winter fashion season.
Knitted in carded merino wool and available in four vivid colours, the flexibility, beauty, and utility of this sumptuous, lightweight piece makes it the perfect companion for anyone planning on travel this winter, perhaps to the destinations we explore below. We can certainly guarantee your finely-spun friend will be the envy of anyone trying to sleep on the plane with those considerably less cozy airline blankets.
Add Some Couture to your Cottage
Canadians know the cottage is the best place to ride out a chilly winter, flocking to Muskoka, Kawartha, and the Sunshine Coast for campfires, skiing, and lazy days by a wood-fired hearth. Your merino throw would add a touch of cozy class to any rustic cottage living space, looking sophisticated yet natural adorning the armrest of your storied family sofa.
Make Waves in Milan
You need to bring your fashion 'A' Game when strolling the ever-trendy streets of Milan, so choose an accessory with an Italian pedigree. Constructed from sustainably produced wool spun in Italy, your vibrant throw will turn heads when worn as a shawl….and maybe even get you featured in the next Milan Fashion Week. Fingers crossed.
Look Iconic in Iceland
Escape the Canadian winter by going somewhere even colder? It's more common than you think: Iceland has been enjoying a tourism boon due to its otherworldly landscape and broad portfolio of wintery excursions. Take a novel look north with you by choosing to wear your throw as a supremely insulating scarf. Just don't forget to take it off before you go for a dip in the hot springs.
This effortlessly versatile merino throw is brought to you in part by the Campaign for Wool Canada, the national arm of a globe-spanning crusade to highlight the many virtues of wool and the importance of the wool industry. If you'd like to learn more about the throw, the virtues of wool, or the sustainably philosophy guiding the capsule collection, we'd be happy to put you in touch with Matthew J. Rowe, CEO of the Campaign for Wool, at your convenience.