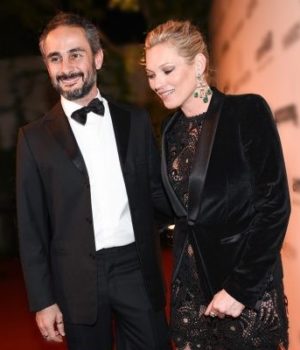 May 2017 sees the launch of KATE MOSS X ARA VARTANIAN, a collaboration between Brazilian jeweler Ara Vartanian and fashion icon Kate Moss. The two friends have united in creating a Limited-Edition collection that brings to life old English legends in a modern fashion. Crafted in 18kt gold, the collection is set with rich stones including amethyst, citrine, garnet, and green goldstone, as well as one of a kind pieces set with diamonds, rubies and other precious stones.
First meeting in 2014, Kate and Ara became great friends and it was Kate who first encouraged Ara to open a store in London, having become hugely successful in Brazil. The friendship between two creative minds naturally developed to a collaborative level, and the collection has been designed in complete creative partnership between the two. The pair have taken aspects of Ara's designs, such as his iconic Hook Earrings, and joined these with Kate's unique style and love of jewelry.
The collection has been inspired by old English legends and the mystic. The pair share a vision that comes from the deep-seated belief in organic spirituality of the natural world. The collection mimics medieval symbols, mounted with swords reminiscent of St George, Patron Saint of England, who mythically slayed a dragon to save a Pagan town, as well as sickle moon symbols and amulets which bring protection and good energy.
Kate and Ara shot the collection with Fenton Bailey on the four faces signed to the Kate Moss Agency at Kate's Cotswold home. The ensemble of talent includes Elfie Reigate, Luka Isaac, Louis Baines and Anna- Lea Gardner. A film will be launched to celebrate the jewelry collaboration and showcase the talent to be managed and mentored by the Kate Moss Agency.
The KATE MOSS X ARA VARTANIAN collection will be available to buy from 17th May 2017 at the Ara Vartanian Flagship store in Mayfair at 44 Bruton Place, W1J 6PB as well as Harvey Nichols and HarveyNichols.com. Prices start from $790.