L'Oréal Paris is calling for nominations for the 2019 Women of Worth Awards honouring 10 inspiring women who are leaders in their communities and inspire others to greatness. In its third year, the Canadian edition of L'Oréal Paris' Women of Worth recognizes a diverse group of women who find beauty in giving back through their volunteerism and charitable contributions. Embodying the famed L'Oréal Paris' signature phrase, "Because You're Worth It", the signature philanthropic program honours women who are motivated by their passion to advance conversation, foster collaboration and inspire action that facilitates meaningful change.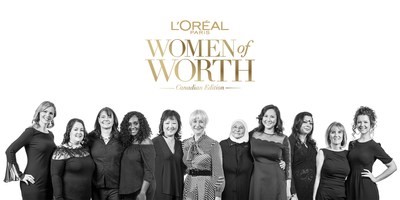 Now through January 8th, 2019 Canadians across the country are invited to visit www.WomenofWorth.ca to nominate a volunteer, philanthropist or change-maker, of any age, to be given the chance to receive a $10,000 donation on behalf of their cause, while being honoured a Woman of Worth.
Each year, the 10 extraordinary women are selected from hundreds of nominations and chosen for the significant contributions they have made across a breadth of causes and important initiatives. The nominees will be judged on four distinct criteria – addressing a crucial need in the community, the impact their inspiring contributions have made, their innovation on developing solutions, and their passion to evoke change and inspire future generations. The honourees will join esteemed alumni of Canadian women who have broken down barriers, built and strengthened communities and fought passionately to make the world a better and more loving place.
"Each year, we are incredibly humbled by the touching, and often heartbreaking stories and achievements of these extraordinary women.  They go beyond the extra mile with their time, talent, commitment and care for their neighbours and those in need around the globe," said Milan Mladjenovic, General Manager, L'Oréal Paris Canada.  "I'm in awe of this amazing group of women and their words of inspiration.  It's a true privilege to recognize and honour these noble advocates, share their stories and provide a contribution to meaningful causes that affect all of us."
All of the 2019 Honourees will receive an all-expense paid trip for two to Toronto to attend the star-studded awards gala on March 8th, hosted by L'Oréal Paris.  Previous Honourees of the Canadian edition of this humanitarian program, as well as a notable L'Oréal Paris' spokeswoman, will also attend the ceremony. The innovations of past award recipients have resulted in significant advancements for aid in sheltering the homeless, to fighting for the rights of refugees; caring for cancer patients, to protecting our environment, and supporting Canadians living with food insecurity; these women are truly making inspiring contributions and beautiful changes to our world.
"When you're in the vicinity of people of this quality, that energy, that calibre of heart – it's an impressive experience.  It's better than going to the Oscars…" said Dame Helen Mirren, L'Oréal Paris Ambassador.
Come February, the 10 nominees will be announced and Canadians will have the opportunity to vote for a National Honouree to be awarded an additional $10,000 grant for her non-profit cause.
To learn about past Canadian Honourees, to nominate a woman making a difference and to cast your vote for the National Honouree, visit womenofworth.ca.