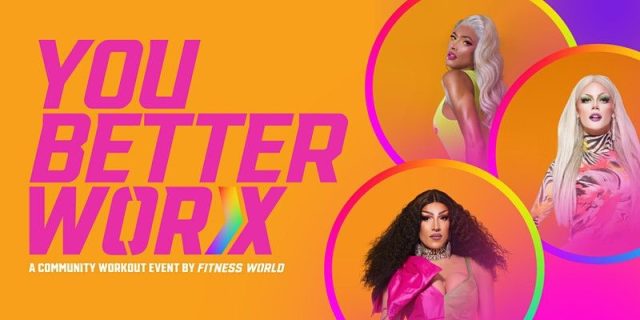 Fitness World is celebrating Vancouver Pride and the 2SLGBTQIA+ community with a pop-up at the Sunset Beach Festival on July 31 and a special #YouBetterWORX outdoor workout class on August 3 at Sunset Beach Park, co-hosted by Drag Superstars Kendall Gender, Synthia Kiss, and Venus K. Both initiatives offer festival-goers and the Vancouver community an opportunity to connect with fitness experts, discover the benefits of movement, and the chance to win a 1-year Fitness World Goal Membership.
Dedicated to helping people reach their own fitness goals, Fitness World invites Pride festival-goers to stop by their Sunset Beach Festival pop-up on July 31 to learn more about the importance exercise and movement plays in discovering your best self, cultivating confidence, and feeling great. With Certified Personal Trainers on-site to answer questions and help people get started on their fitness journey, guests can receive free swag including a complimentary 3-day Fitness World pass, and sign up for a spot in the #YouBetterWORX class.
Following a successful pilot #DragWORX class last fall, Fitness World will host a #YouBetterWORX outdoor workout class on August 3 from 5:30-7pm at Sunset Beach Park. Led by the gym's own Andrew Alcalde, Drag Superstars Kendall Gender, Synthia Kiss, and Venus K will join participants in a full body burn HIIT-style class with dance moves thrown in for a fabulous cardio twist. Open to the public and all fitness levels, guests can secure their spot with registration by donation where 100% of proceeds will be donated to Fitness World's new long-term charity partner, Covenant House Vancouver. All donations up to $5,000 CA will be matched by Fitness World as they work to provide fitness programming, education, and exercise equipment for the non-profit's youth-focused programs.
"Integrating diversity and highlighting the importance of 2SLGBTQIA+ communities in the fitness industry means changing narratives, and we are committed to leading the way," says Fitness World CEO, Chris Smith. "We are honored and proud to participate in this year's Pride Festival, connect with our community and partner with local 2SLGBTQIA+ creators and activists. We're looking forward to a great lineup of events and supporting the crucial work of Covenant House Vancouver while spotlighting the importance movement has on everyone's mental health and wellness."
For more information about the #YouBetterWORX class, visit here.