As kids grow, their skin grows and changes with them, so they need skincare products that support their developing skin. Did you know that kids' skin is more delicate and loses up to 33% more water compared to adult skin – so they need products designed just for them.
This year, Aveeno® Kids has launched in Canada with a collection specifically formulated for kids' sensitive skin to ultimately help empower them to become more independent through skincare and wellness. Confidence and independence go hand-in-hand, and the Aveeno® Kids collection offers kids the opportunity to begin creating their own routines and navigating the world on their own through skincare.
The new Aveeno® Kids collection is formulated with natural oat to clean and nourish kids' sensitive, changing skin without disrupting the moisture barrier. Created with a scientifically proven ingredients, the new collection is tear-free, hypoallergenic and is formulated without parabens, phthalates, sulfates, dyes, or phenoxyethanol.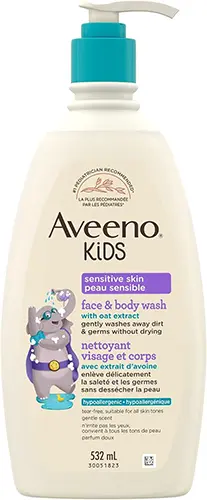 Aveeno® Kids Face & Body Gel Cream, gently hydrates and moisturizes skin all day long while preventing dry skin.

Aveeno® Kids Face & Body Wash, gently wash away dirt and germs without drying or stripping natural oils.