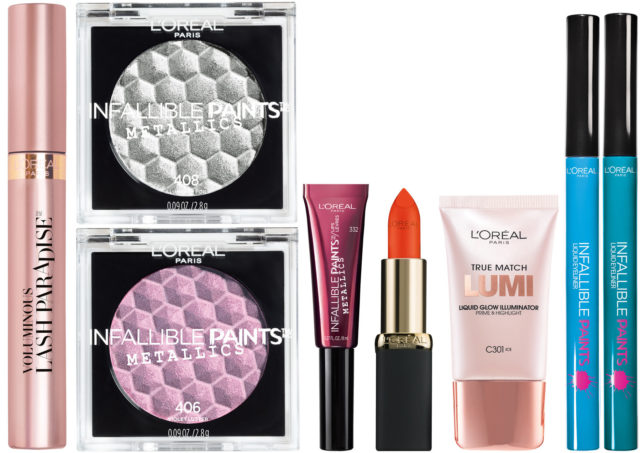 The fun in beauty is about experimentation and trying new looks. According to L'Oréal Paris celebrity makeup artist Sir John, bold makeup is one trend having a major beauty moment. While a more natural look will never go out of style, there is no better time than fall to embrace a bold look – whether metallics, color blocking or dramatic lashes. When it comes to pulling off this trend, he notes it is all about finding the shades and textures that pair best together.
Sir John says, "Metallic and color block makeup are the looks I keep coming back to with all my clients. If you are looking for a quick way to add color and texture, try playing up your favorite features with either technique. But sometimes, a bold lash is the only thing you need to create a bold and dramatic look."
METALLIC MAKEUP:
To achieve a metallic makeup look focused on the lip, Sir John suggests balancing brightness with an opposite matte texture. To do this, apply a matte foundation on skin like Infallible Total Cover to contrast the more daring and high-impact Infallible Paints Metallic Lipcolors. To keep the focus on the lips, leave eye makeup minimal and finish with a glowy cheek using True Match Lumi Liquid Highlighter.
A second way to rock the metallic trend is to wear metallics on the eyes. Similarly, Sir John recommends applying Infallible Paints Metallics Eye Shadow with a matte lip in order to balance the brightness. Again, finish off this look by lightly illuminating the cheeks with a golden light reflective product like True Match Lumi Liquid Glow Illuminator.
COLOR BLOCK MAKEUP:
Sir John recommends using an intensive eyeliner and a lip color in velvety matte finishes for a bold color block look. Use colors that will pop against one's skin tone.
For fair skin, try a pink lip and cobalt eyeliner or mascara. For medium to tan skin, try an orange lip and violet eyeliner. For deep skin, try a purple lip and ivy green eyeliner. Sir John suggests Infallible Paints Eyeliner and Colour Riche Matte Lipstick.
BOLD LASHES:
Dramatic lashes are always in style and are a simple way to make a bold statement. Sir John suggests starting out with Voluminous Lash Primer. Allow time to dry before applying eyeliner, like Voluminous Liner Noir to the entire lash line, followed by Voluminous Lash Paradise Mascara in Blackest Black. Wait a few minutes for the mascara to dry, and apply a second coat for added volume and drama. For extra curl, use Voluminous Lash Paradise Waterproof Mascara – the waterproof formula curls the lashes and gives them a hold, just like hairspray. Finish bold lashes off with soft skin, rosy cheeks and a favorite lip color.