When thinking of Oribe Canales, we think of big hair, 90's supermodels and products that exceed expectation when it comes to performance and luxury. As one of the most sought-after celebrity stylists in the world, Oribe Canales, had a career spanning over forty years. In 2008, Oribe took his industry experience, love of hairdressing and individual beauty and, along with Co-founder Daniel Kaner, translated it into a collection of products that were rooted in traditional hairstyling, new-world technology and the finest ingredients.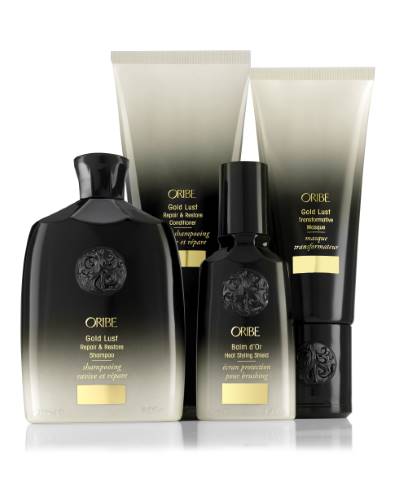 When it came to performance, Oribe Canales felt strongly that products should allow stylists and consumers to see and feel the difference right away. Whether its gels or oils that hold, sprays that don't flake – each product is made and tested to outperform every other product in a stylist's kit.
With all hair concerns and types in mind, one of the top selling collections from Oribe is the Gold Lust Collection. With the Gold lust Nourishing Oil and the Dry Shampoo leading the success of the collection, there is a reason why 12 years later, 7 out of the 10 best selling Oribe products are from this collection. Built to rejuvenate the hair to its youthful state, the ultra-nourishing formulas are built to smooth away all signs of damage at every step of your hair journey, from the shower to the blow dryer.
To guide you through the collection, we share with you the go-to top styling and treatment products from the rich and lavish Gold Lust Collection.
Liquid Gold Selfcare:
The Golden Duo: The Gold Lust Repair & Restore Shampoo and Conditioner will give you a the most rich shower experience ever! With Argan Oil, Maracuja oil, the Oribe Signature Complex and Amino Acid Complex, the duo will take care of all your hair's needs – scalp care, damage repair, shine, moisture and protection.
The modern remedy: The Gold Lust Transformative Masque is an intense treatment that penetrates to rebuild each fiber in the hair to result in nourished and youthful strands. Made with the Oribe bio-restorative complex ,white tea, baobob and jasmine extracts.
The multitasker: The Gold Lust All Over Oil is a 99% natural product formulated with a blend of 17 natural oils rich in antioxidants and essential fatty acids that will nourish, protect and lock in moisture. Apply all over! (nails, hair, skin)
The hairsaver: The Gold Lust Power Drops is basically a supercharge for your hair. The highly concentrated treatment offers a boost of linoleic acid, biotin and sea kelp extract – with 2 drops, it will rebuild and restore the most damaged hair.
Styling Gold:
The quick fix that works: No need to have a love/hate relationship with your dry shampoo! The Oribe Gold Lust Dry Shampoo will instantly clean and refresh your blowout without leaving any residue or stiffness in your hair.
The protector :The Gold Lust Balm D'or Heat Styling Shield is a superlight styler that will protect, nourish and style your hair all at the same time. The result: protected, nourished and radiant hair.
The icon:For the ultimate Oribe blowdry, the Gold Lust Imperial Blowout Transformative Styling Crème will give you a an iconic blowout that lasts for days while styling in strength, density, softness and shine
All Oribe products are now available at Oribe.ca, Oribe salons, Holtrenfrew.com, Nordstrom.ca