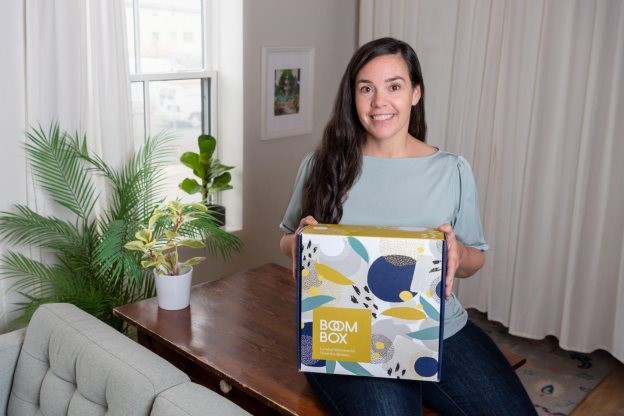 Duckish, a women-led, waterless bath and body care company is on a mission to positively impact the environment and women's lives. Carolyn Crewe, Founder of Duckish Natural Skin Care, is getting in the holiday spirit by launching Boom Box, a quarterly subscription box of curated wellness products specifically for tired-a$$ women, filled with products from women-owned businesses.
"We wanted to create something for women who don't have time or energy to think about their own wellness, offering an easy way to feel good again while giving back," says Carolyn Crewe, founder of Duckish. "We're excited to create a positive impact with this new wellness subscription box by supporting women via the wellness products, the women-owned business community and the donation to help lift other women up through the important programs the YWCA delivers."
The pandemic has taken a major toll on Canadian women, with a recent McKinsey report noting "women are even more burned out now than they were a year ago." As business owners and mothers, Crewe and collaborators wanted to create an easy way for women like themselves to have the tools they need to engage in wellness and self-care activities, all while being able to give back. The box includes products from Canadian female-founded brands like Wildcraft Skin Care, Duckish Natural Skin Care, Aeryon Wellness, Metavo, Doodle Lovely, MaskerAide and Made With Local. Every time a box is purchased, $5 is given to support the YWCA in Halifax.
"As women, one of the most difficult things to do is to put our needs first, especially during the holiday season. However, when we don't take care of ourselves, we're no good to anyone," says Aeryon Ashlie, founder of Aeryon Wellness. "We hope the incredible products inside Boom Box encourage women to take a well-deserved minute to slow down and recharge."
Boom Box is a feel-good subscription box that takes the guesswork out of wellness products for busy women and makes it easy for them to feel good again. For $99 + free shipping every three months, women can experience luxurious and sustainable beauty products, a better night's sleep, delicious snacks and healthy supplements. Order by December 13 to ensure your box arrives in time for the holidays at duckish.ca/collections/boom-box.