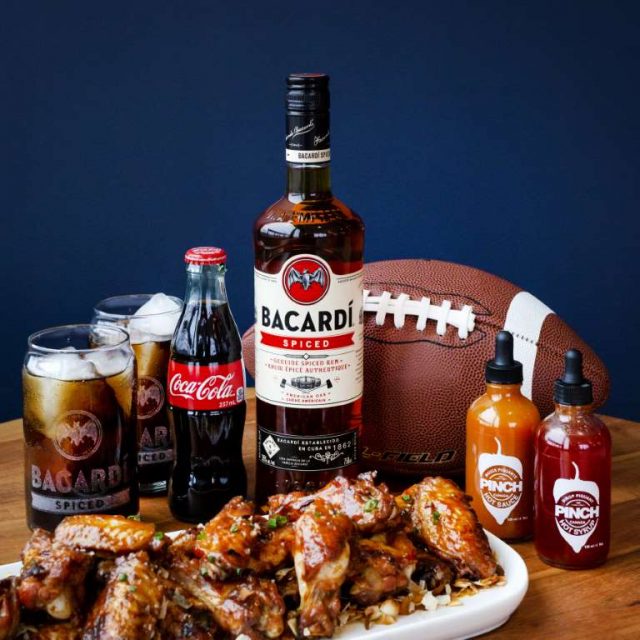 Creator of the famous Pinch Hot Sauce, Chef Shontelle Pinch, has created a delicious boozy chicken wing recipe: The BACARDÍ Spiced & Sweet Wings – the perfect game day snack to bring some Miami heat to your reader's Super Bowl parties.
Marinated with the newly launched BACARDÍ Spiced Rum, the spicy and sweet wings will be a game changer.
INGREDIENTS
1 tbsp Cayenne Pepper
1 tbsp Sea Salt
1 tbsp Cane Sugar
1 tbsp Molasses or Maple Syrup
Green Onion or Scallion (for garnish)
PINCH Hot Syrup
Unsweetened Coconut Flakes
MARINADE
2 lbs of cage free, pasture fed chicken wings
1/2 – 1 cup of BACARDÍ Spiced Rum
1/2 cup fresh orange juice
Five pinches of PINCH Hot Sauce
Two tbsp of brown sugar
Step One
Mix all ingredients from the marinade and combine together in a ziplock and
marinade/brine the mixture overnight or minimum of five hours.
Step Two
Take chicken out and lay on a lined baking sheet of parchment paper. Add
Cayenne Pepper, Sea Salt and Cane sugar and coat wings in a dry rub
coating.
Step Three
Preheat oven to 400 degrees and take the remainder of marinade/brine
from ziplock and empty into a saucepan. Cook on the stovetop for the glaze
and PINCH Hot Sauce with your choice of Molasses or Maple Syrup for a
thickening agent. Cook on low to medium heat until it thickens and turn off
the element to the stove top.
Step Four
Add chicken wings with dry rub and cook 5-10 minutes per side. Pull out the
wings and brush on glaze. Broil to your likeness and reserve some of the
glaze for added sauciness!
Step Five
Take green onion/scallion and chop lengthwise to garnish the wings.
Step Six
Bonus To gourmet it up, add some crunch and layer the plate with
unsweetened toasted coconut flakes.
3/4 cup of coconut flakes
Three pinches of PINCH Hot Syrup
1/2 tbsp of BACARDÍ Spiced Rum
Dash of sea salt
Mix all together and layer on a baking sheet and toast until light brown and
crunchy.Spread over a serving dish and layer chicken wings on top.
Enjoy with a BACARDÍ Spiced Rum and Coke