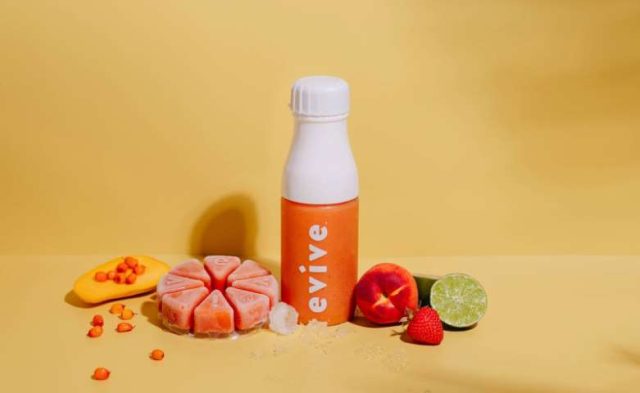 Evive Nutrition, one of North America's fastest-growing nutrition companies, is releasing their newest flavour, the Sunrize Smoothie. The new summer smoothie is a perfect refresher drink to beat the heat. Best served with plenty of ice, this thirst-quencher features classic tropic flavours: sweet strawberry, mango and peach.
In case you are unfamiliar with Evive, the Quebec plant-based meal company offers blender-free smoothies, delicious vegan meals, and newly-introduced snacks, muffin bites, in frozen wheel form through an online subscription program as well as in retail stores across North America. Perfect for wellness warriors with busy schedules, Evive provides you with organic nutrients from whole fruits, vegetables, and superfoods. 
FAST FACTS:
Features sweet strawberry, mango, and peach with notes of lime
Packed with superfoods like sea buckthorn berry, baobab powder, camu camu powder, pitaya powder
Best served with plenty of ice (think: Slushy)
Gluten-free, no added sugar, plant-based
3 EASY STEPS:Pop the cubes + Let them melt + Shake them well. Enjoy!
Available for a limited time only, while supply lasts
Evive's frozen cubes are available in over 2,000 stores across Canada and online through a subscription program.