Antipodes New Zealand products are derived from nature's purest ingredients to enhance your beauty ritual with some of the cleanest ingredients on the earth – including vegetarian certified manuka honey.
Introducing the Beehive Box. Brighten your skin with this specially curated selection of Antipodes' Manuka Honey Heroes that contain New Zealand's World‐famous manuka honey.
Antipodes Manuka honey is sustainably sourced, and VegSoc approved. This superfood is renowned for its health‐giving benefits that help give you a glowing blemish-free complexion due to its antibacterial properties. Found only in New Zealand, this bioactive, skin-enhancing ingredient helps to promote a healthy visage.
When used in natural skincare, antioxidant‐rich manuka honey works as a humectant, drawing vital moisture into the skin and hydrating, moisturizing, nourishing, rejuvenating and restoring its natural glow.
Antipodes only uses premium manuka honey produced sustainably by bees who harvest the nectar of the wild manuka plant (part of the tea tree family) in remote parts of New Zealand, so there's no impact on the environment.
The Beehive box contains: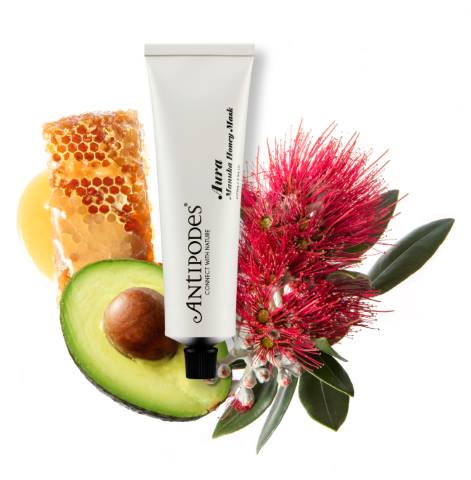 Aura Manuka Honey Mask – Wild-sourced Manuka Honey works to lock in moisture and harmonize your skin's natural oils. This fragrant vanilla pod and mandarin mask will help to soothe sensitive skin, keeping you fresh looking and blemish-free. It even works as a spot treatment! It also contains Pohutukawa Bloom, a bioactive extract from a New Zealand native tree that conditions and deeply moisturizes. It can support the stimulation of skin regeneration and help to powerfully detox and transform the texture of your skin. Vinanza® grape seeds contain antioxidants that help to counter the damaging effects of ingredients, pollution and other chemical nasties of modern living.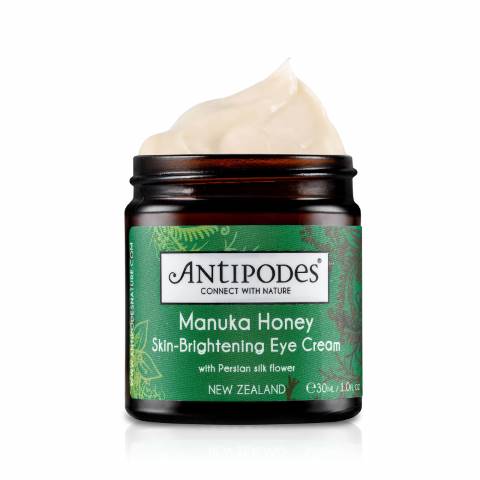 Manuka Honey Skin-Brightening Eye Cream – This luxury formulation contains Manuka Honey which boasts potent moisturizing properties to hydrate and freshen the under‐eye area in this vegetarian eye cream. It also introduces a Persian silk flower that blends with revolutionary antioxidant-rich Vinanza® grape seed and kiwifruit to help brighten delicate tissue, resulting in a brightening under‐eye cream that is gentle yet potent—suited to oily and blemish‐prone skin types.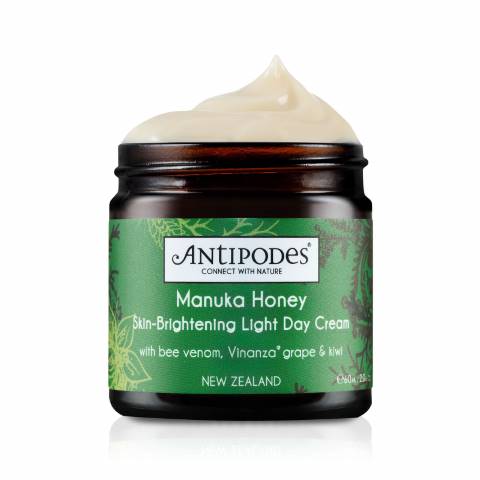 Manuka Honey Skin-Brightening Light Day Cream – Bee venom and Mamaku Black Fern contribute to a gentle lifting effect. World‐famous Manuka Honey, renowned for its health‐giving benefits, helps to address the appearance of any skin blemishes, making this a powerful brightening cream for the face, neck and décolletage. Antioxidant‐rich Vinanza® Grape & Kiwi from award‐winning grape seeds and kiwi fruit blend with peony flower for the ultimate skin‐bright finish. It is suited to most skin conditions, especially oily.
Antipodes® uses pollution-free, results-driven native New Zealand ingredients in its award-winning plant-powered vegan beauty™ and certified organic premium skincare range. From Wellington to the world – lift the lid of an Antipodes jar, and escape to nature in New Zealand.