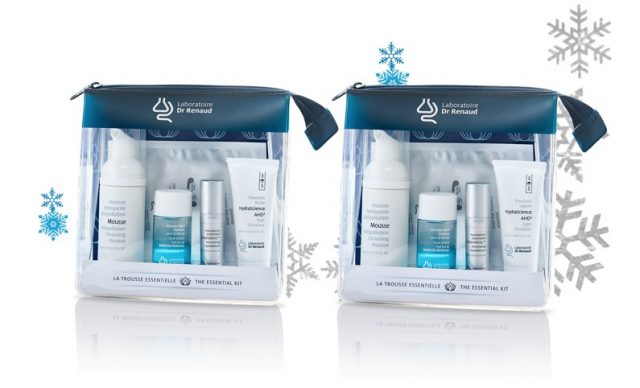 Containing sample-sized products, the Essential Kit from Laboratoire Dr Renaud is the perfect beauty gift for the holidays! It comes in a cute, reusable, multifunctional pouch, slips easily into Christmas stockings and its "on-the-go" format makes it perfect for any getaway! Your loved ones' skins will thank you!
It contains:
1 Antipollution Cleansing Mousse 50 mL – leaves skin free of all impurities, while respecting its natural moisture balance.
1 Dual-Phase Eye & Lip Make-Up Remover 30 mL – Removes all types of make-up, including long-lasting and water-resistant formulations
1 InnovHyal Volumizing HydraSerum 3.5 mL – helps to reproduce the volumizing and intensive plumping effects of wrinkle-filling procedures.
1 HydraScience RICH or LIGHT Emulsion 20 mL – acts right at the heart of cells to reactivate the natural mechanisms that allow the skin to self-hydrate
2 Eye Contour Anti-Ageing Patches – correct wrinkles, dark circles and puffiness while plumping features for a "lifting" effect.