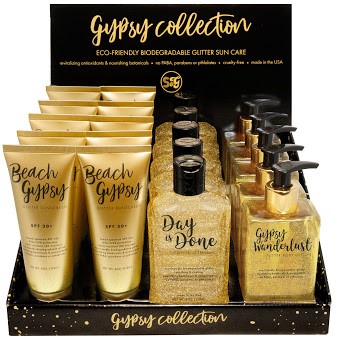 Boho Beach
Get beautiful inside and out as these new PABA and paraben-free products offer your skin deep nourishment and anti-aging properties. Ingredients include full spectrum hemp oil, vitamins and botanicals to protect your skin against sun damage and free radicals.
Calm & Collected Hemp & Argan Oil Whipped Body Cream
Replenish Hydrating Face Mist
Regenerate Hemp & Peptide infused Anti Aging Serum
Transforming your beach-inspired beauty routine into a Boho lifestyle, Sunshine & Glitter introduces home goods to the collection. Items include soy candles, essential oils and room sprays that carry a fragrance reminiscent of a day at the beach and organic cotton throw blankets that stay luxurious from the sofa to the sand.
Healing Stones Natural Reed Diffuser
SPA Candle
Healing Stones Natural Room Fragrance Spray
Organic Cotton Beach Throw & Towel
Beach Gypsy
Sunshine & Glitter has added more products to this luminous line to help you further shimmer and shine. Bring out your inner glitterati with eco-friendly biodegradable glitters and shimmers infused with natural antioxidants and essential nutrients. The collection's new rose gold sunscreen and the launch of three bath and body care essentials leave your skin feeling as radiant as it looks.
Eco-friendly Biodegradable Glitter Sunscreen
In the Buff Ultra Hydrating and Revitalizing Body Scrub
Playa Afterglow Shimmer Body Oil
Oasis Hemp & Argan Oil Whipped Glitter Body Butter
Sea Star Sparkle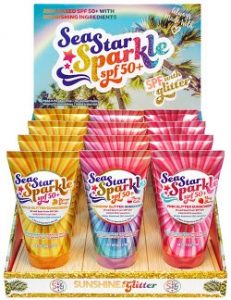 Adding more fun to your time in the sun, the reef-safe, biodegradable glitter collection introduces two new delicious smelling SPF 50+ sunscreens that are broad-spectrum UVA/UVB and are water-resistant for 80 minutes. Other products to get you beach ready include the cupcake-scented Totally Fun AfterSun and a new SPF 50+ broad-spectrum UVA/UVB lip oil.
Marsh Mallow Cosmic Stardust Glitter Sunscreen
Fruit Punch Glamingo Glitter Sunscreen
Just Beachy! Totally Fun AfterSun
Disco Shimmer Lip Oil
Want to add some Awesomeness to your life? Visit sunshineglitter.com for more information