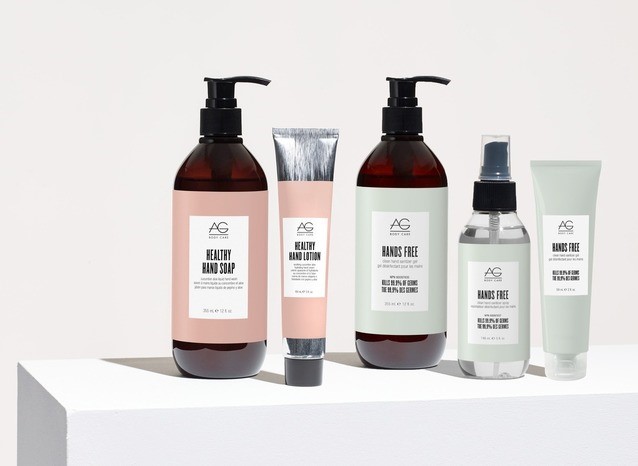 AG Hair is proud to extend its Body Care Collection to include new Healthy Hand Soap and Lotion. The Body Care Collection launched this past spring when the company pivoted to formulate Hands Free Sanitizer Gel and Spray to help fill an urgent demand. AG's Body Care Collection is designed to provide universal utility — using the highest quality ingredients to create clean solutions for every body. With this most recent launch, AG's focus remains on hands, understanding that keeping them clean and hydrated is vital to personal health and navigating this new normal as safely as possible.
Knowing that frequent hand washing is the most effective way to remove germs and bacteria, AG sought to develop a hand wash that people not only trust but genuinely enjoy using. Healthy Hand Soap ($9.99 / 12 oz) is formulated with benzalkonium chloride and antimicrobial essential oils that help reduce bacteria on the skin while aloe vera and cucumber extracts add essential hydration to keep hands feeling smooth. 
Dry or cracked hands can attract germs and bacteria and risk getting infected. To help keep them smooth, soft and safe, AG is launching Healthy Hand Lotion ($12.99 / 3 oz) to use after handwashing or sanitizing. Nourishing shea butter is combined with hydrating hyaluronic acid, moisturizing Argan and Abyssinian oils and infused with soothing aloe and cucumber extracts. In addition, this light and naturally fragranced hand lotion is antimicrobial adding even more protection.  
"The extension of our Body Care line was a natural progression for us," says Graham Fraser, CEO of Vancouver-based AG Hair. "When we shifted our production to focus primarily on hand sanitizer in March, we realized we could provide much more in body care. We hope Healthy Hands Soap and Lotion gives customers a sense of security knowing that they can continue to stay safe through consistent handwashing, while not at the expense of damaging and drying out their skin."
Committed to helping the community, AG Hair created a custom hand lotion in a 2oz tube to thank essential workers of the Provincial Health Services Authority in British Columbia (PHSA). 20,000 Healthy Hand Lotions (not for resale) will be donated to PHSA employees throughout British Columbia. The physical act of cheering every evening may have faded in recent months, but AG wants health care workers to know how that it's always 7 p.m. in their hearts. Healthy Hand Soap 12 oz, Healthy Hand Lotion 3 oz and a travel-sized Hands Free Sanitizer Gel 2 oz is be available on aghair.com.